THIS IS MY SIDE HUSTLE, 9-11 Sep 2022
by HOODKITSCH
Opening Friday: 6 PM – 9 PM:
Bredestraat 4, Maastricht at Rob Van Rijn Gallery
5 years after the solo show "Take Me To Church", held in an old protestant church, HOODKITSCH and KALKMAN GALLERY are excited to invite you to THIS IS MY SIDE HUSTLE. This time we are taking over the first floor of another gallery in Maastricht: Rob van Rijn Gallery, Bredestraat 4. For 3 days a new collection by HOODKITSCH will be shown. Yes, only 3 days.
Please RSVP before Sept. 2 if you would like to attend the opening, Sept. 9 form 6PM – 9PM: hubert@kalkmangallery.com or hoodkitsch@gmail.com
You are also welcome during opening hours in the weekend.
09.09.22 – 11.09.22 | Kalkman Gallery present HOODKITSCH at the Rob van Rijn Gallery (1st floor) | Bredestraat 4 Maastricht
Opening hours:
Saturday Sept. 10: 12-17h
Sunday Sept. 11: 12-17h
Can't make it? Not to worry! The collection will go online at 9AM on Sept 9. And keep an eye out on our Instagram pages ( @kalkman.maastricht / @kalkman.antwerp / @hoodkitsch ) for pre-sale opportunities. Follow this link to add an artwork to your collection (online at 9AM CEST on sept 9th): ARTWORKS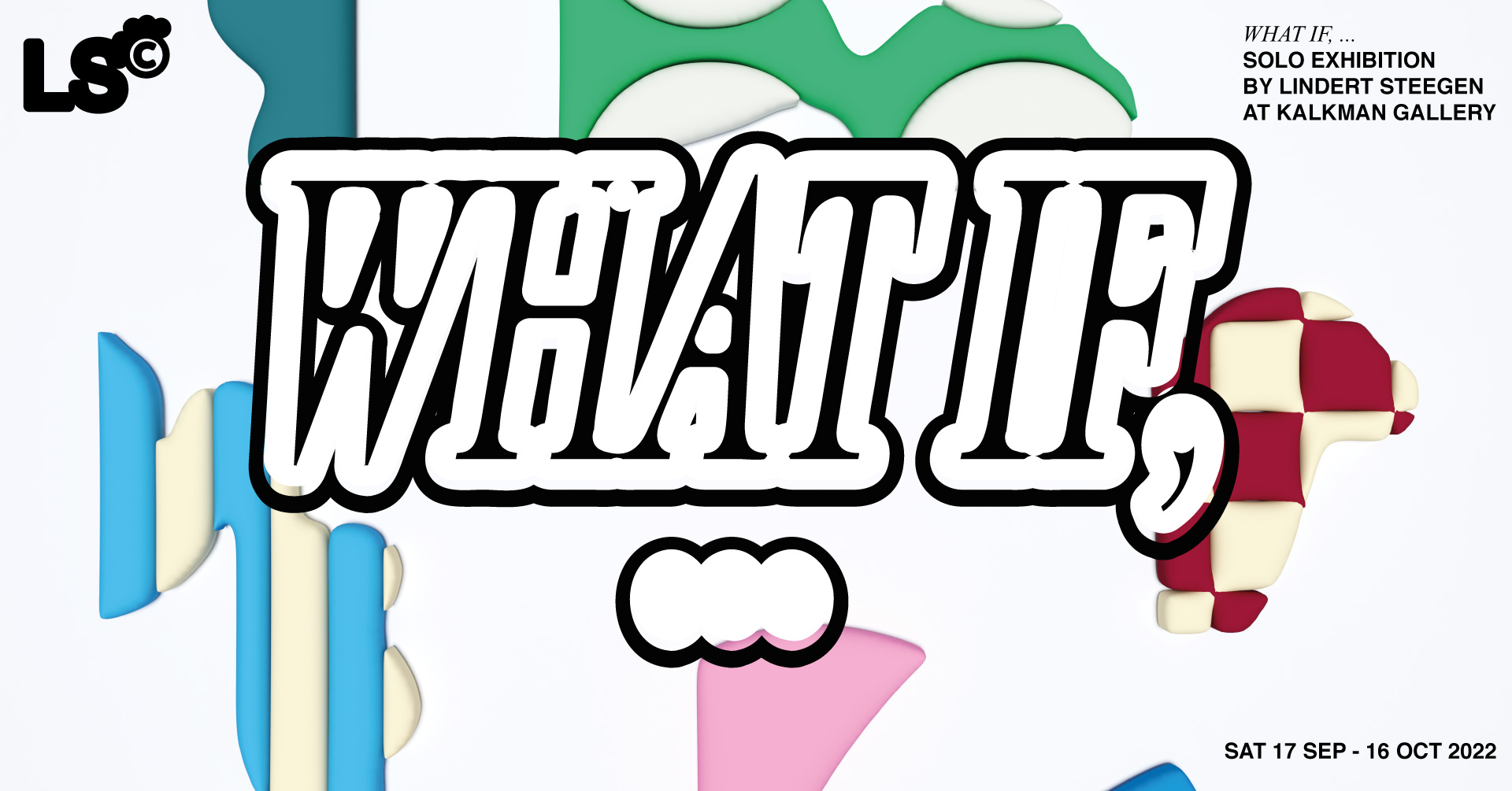 17.09.22 – 16.10.22 | Sint-Jorispoort 28, Antwerp 
Opening hours:
Tuesday – Saturday: 12 – 6 PM
Can't make it? Not to worry! Send an e-mail to charlotte@kalkmangallery.com for the preview catalog. The collection will go online at 9AM on Sept 17. And keep an eye out on our Instagram pages ( @kalkman.maastricht / @kalkman.antwerp) for pre-sale opportunities.
WHAT IF,…:
 Sep 17 – Oct 16 2022
a solo-exhibition by Lindert Steegen
Opening: Saturday September 17th 2022, 12 to 6 PM
Sint-Jorispoort 28, Antwerp (our Antwerp space)

Transforming places and spaces
Lindert Steegen is based in Ghent, Belgium. He has transformed quite a number of public places and spaces with his own style: a colorful and abstract play of designs, referring to the combination of his love for graffiti, graphic design and 3D animation. 
Wall Sculptures: the WHAT IF,… series
For his first solo exhibition in Antwerp, Lindert transferred his street art into wall sculptures: spray paint on sculpted Douglas Pitch Pine. The title of each sculpture refers to a "WHAT IF,…" sentiment.
You are invited to be the first to see the result of Lindert's WHAT IF,… series, opening on Saturday 17.09.22 at the KALKMAN Gallery in Antwerp.
June 11 – July 16 2022 | This Is Hazel's Son
by Jase Powell
Opening Saturday June 11th: 11 AM – 6 PM.
Watch Jase Powell here inviting you to THIS IS HAZEL'S SON.
Jase Powell invented a way of responding to his memories and environment by using materials to bring his work to life such as Lego, faux ostrich skin, flock, among others. Combining these images and materials brings both texture and meaning to his work.
In this show, his latest artworks 'Guns Don't Kill' and 'Things People Say' will be shown to the audience. Also, older work such as ICE-T on Lego (2012, ed. 10) will be part of the exhibition.
11.06.22 – 16.07.22 | Kalkman Gallery | Sint-Jorispoort 28
Jase Powell is a visual artist and photographer born in Hackney, east London and currently living in the Netherlands. His work has been described as original, soulful and thought-provoking.
Apr 9 – May 18, 2022 – HAYDEN KAYS     |     BECAUSE OF LOVE
Opening weekend: April 9th 11 AM – 8 PM and April 10th 1 PM – 5:30 PM
Kalkman Antwerp – Sint-Jorispoort 28
We cordially invite you to the opening of a new solo exhibition by Hayden Kays, Because Of Love. Hayden Kays will be in traveling to Antwerp to be attendance on April 9th from 4PM – 8PM.
KALKMAN Antwerp will be hosting Hayden's first solo exhibition in Belgium, with a range of work collected by Hubert & Charlotte over the last 8 years + a new print release. Some artworks have never been shown in public. Now is your opportunity to see how varied the materials and subjects are which belang to Hayden Kays' spectrum. And, why he is considered one of the most provocative contemporary artists of this era.
Please contact us if you want to be updated about any sales or for fro press / interview opportunities: charlotte@kalkmangallery.com
Please find the current availability of his work her: Hayden Kays Collection
Apr 28 – May 1 2022 – Discovery Art Fair Cologne
BOOTH F4 | Kalkman Gallery
Save the Date | April 29th – May 1st, 2022 | Opening April 28th, 2022
XPOST in Cologne | Gladbacher Wall 5, 50670 Cologne
About The Discovery Art Fair (formerly known as KÖLNER LISTE): an event designed to inspire and engage, inciting the discovery of new names and artworks. Addressing both new and experienced collectors, the fair showcases a wide spectrum of emerging contemporary art at affordable prices. With an extraordinary selection of local and international galleries, the Discovery Art Fair aims to become one of the most interesting art events to follow as one of the most progressive art fairs in Germany.
We will be participating as KALKMAN GALLERY and will exhibit a number of artists from our roster. We are dedicated to exhibiting a wide range of contemporary styles through its mixed offer of local and international artists. Please read the blog – written by the Discovery Art Fair – to inform about our art collection for the fair.